Introduction
Qingdao Chaofeng Plastic Machinery Co., Ltd. can produce high-quality drainage pipes with diameter Φ200-Φ3500 by absorbing the large-diameter hollow-wall winding pipe production line developed by the latest foreign production technology. The pipe is the mainstream product of urban buried drainage pipes, and will gradually replace steel pipes, cement pipes and other plastic pipes. The complete set consists of a special-shaped tube extruder, a fusion-spinning machine, a winding forming machine, a cutting machine, and related auxiliary machines, and has low investment, large production capacity, high production efficiency, stable operation, high rigidity of the pipe ring, and unit meter. Small weight, excellent creep resistance, convenient connection and construction economy. The extruders are specially designed high-efficiency single-screw extruders. The screw and barrel structure are unique, featuring high output, low energy consumption and excellent plasticization. The mold structure is reasonable, the two-machine combined feeding is rotationally formed, the concept is exquisite, and the design is unique. It adopts PLC computer control system, easy to operate and stable and reliable. The CR3500 production line is exclusively produced by the company, and the largest independent hollow wall winding pipe unit with a diameter of Φ3500 can be produced. Product introduction: The main machine adopts double-stage decompression screw with special promotion of mixing and plasticizing components. Under the cooperation of high torque and high temperature control precision, it can guarantee the production of recycled materials. It adopts composite machine head and double machine combined material feeding, spiral rotation forming and high-efficiency compounding process to ensure high quality of products. The scientific wall structure design integrates the essence of European and Korean technology, fully ensuring that the pipe material has the lowest material consumption and the highest production efficiency under the same ring stiffness condition. The electrical control adopts advanced PLC computer control system, high-precision temperature control module, full-color touch screen, convenient operation, stable and reliable.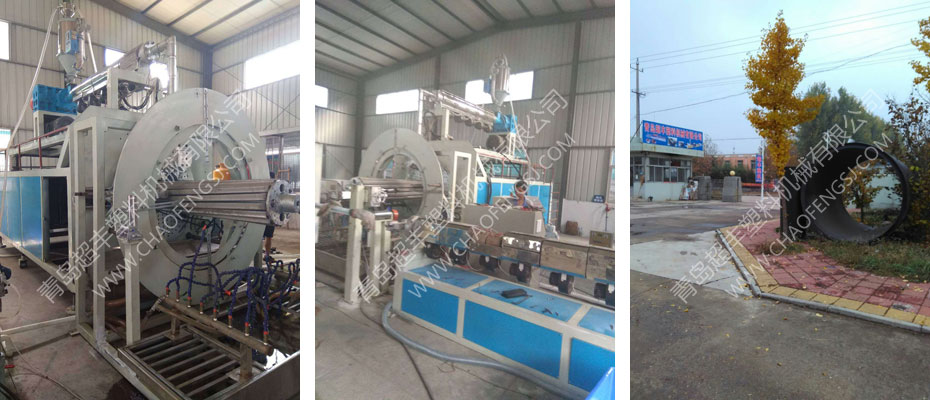 Performance and Characteristics
The main machine adopts high-efficiency single-screw extruder to ensure high-speed, high-quality extrusion;
The utility model adopts a composite machine head, which is formed by spiral rotation, has a compact structure and a unique design, and ensures high quality of products;
Easy to operate and stable in operation;
The finished pipe ring has high rigidity;
It can produce mine anti-static gas drainage pipe;
Special pipe fittings are connected, the connection is convenient, and the construction is economical.

Main technical Parameters